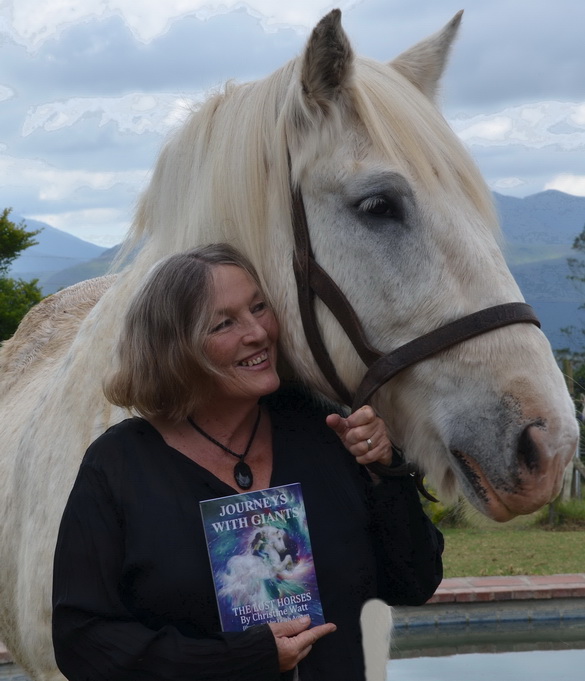 The author with Mr Robert Tobbs
 Christine Watt (born 1959) –
All my life I have had three great passions, the first to be born was my passion for horses which started at the age of four years old when my father put me on a horse for the first time.
I grew up on a cattle ranch deep in the bush in Zimbabwe – then Rhodesia – where we had horses to ride and wide open spaces to explore. We were remote, the nearest city was four hours' drive away.
My mother, a Lecturer in English Literature, home schooled us until we went into secondary boarding school and that made the whole difference – I was hungry and she fed that hunger and my passion for literature was born.  We had no TV and no electricity and told each-other stories and lived a life alive with imagination. I wrote my first story when I was six years old about a world run by horses and cats. Since then I have not stopped writing.
When I was twenty six I met my great love, my husband Peter Watt who carried in him the same passion for both literature and horses. We lived in Simon's Town on the Cape Peninsula, South Africa, until our children, Sarah and Ian, had finished school.
On the 21st December 2000, the new millennium, we moved on to our small farm, Outeniqua Moon on the Garden Route, South Africa. It was as if our lives had been moving towards this one point our decision to breed and protect the Heavy Draft Percheron Horses here in South Africa. As we became more and more involved we understood the need to protect the Heavy Draft Horses who, world-wide are on the brink of extinction and so we discovered our destiny and like all destinies, it has been and still is an immense struggle.